All of our reviews and recommendations are completely impartial but some posts may include affiliate links that can earn us a commission. Click here for full details.
Many people search Google to ask the question: "is Udemy worth it?" With that in mind, here we have a full and honest Udemy review.
I've personally reviewed a huge range of different e learning sites, and I frequently suggest low-cost Udemy courses to people who want to learn new skills. Thanks to the company's almost-permanent sales, you can often pick up courses for little more than 10 bucks each – a very small investment in adding to your knowledge.
We'll begin with the basics, but first here's a quick summary for those who don't have the time to read the entire review.
Udemy Review Summary:

"Udemy is a good value platform for learning new skills, and there are definitely some gems amongst its enormous range of courses. There are some duds too, but so long as you choose wisely, you should be able to pick up a satisfying and rewarding course."
Udemy is an online training platform offering over 130,000 different courses in a vast range of subjects. Around 50 Million students had taken courses via the platform as of February 2020.
Unlike some other online course providers like eDx and Coursera, Udemy doesn't market courses created by universities and educational institutions. In fact, anyone can create and sell a course on Udemy – and that includes you!
This means that there are actually two important questions to answer:
Is Udemy worth it if you want to learn new skills?
Is Udemy good as a place to create and sell courses of your own?
Don't worry – in this Udemy review, I look at both angles!
Is Udemy Legit?
Udemy is completely legit. It's had accolades from the likes of Forbes and Mashable, and millions of people use the platform to learn new skills. It's also a platform that household-name companies use to train staff.
However, the fact that anyone can create Udemy courses is a double-edged sword. It means that the quality of courses can vary considerably. It's best to read individual course reviews in detail, and to look for round-ups of the best Udemy courses, such as our own list of suggestions for freelancers.
Some Udemy courses are created by true gurus in their field. An example is Ryan Kroonenburg, a renowned expert in cloud solutions and Amazon Web Services. His related courses on Udemy have attracted nearly 400,000 students.
So yes, Udemy is completely legit. Those who are negative about the platform are likely to have chosen a poor-quality course – and it's impossible to deny that those exist.
Is Udemy Accredited?
Udemy doesn't offer courses accredited by educational institutions.
Some other online course providers such as as eDx and Coursera do, so if you're keen to add such an accreditation to your resumé, you may wish to consider some alternative online training options.
Is Udemy Worth it as a Place to Learn?
Absolutely; Given that Udemy courses are almost always on some kind of sale, Udemy is a very low-cost place to learn. There's rarely any need to spend more than $20 on a course. If you choose one of the good ones, you can absorb a huge amount of information and genuinely learn brand new skills from scratch.
But are Udemy certificates valid qualifications? Well, no, not really. You can't spend $20 or less on an online course and expect it to be a match for a university degree or a vendor certification from Microsoft or Apple!
However, that doesn't mean that learning new things on Udemy can't massively help you advance your career.
Features and Functionality
The Udemy learning experience is exactly what you'd expect if you've ever studied online before. Courses are arranged into a series of modules and lessons, and these can include videos, text notes and assessment tests.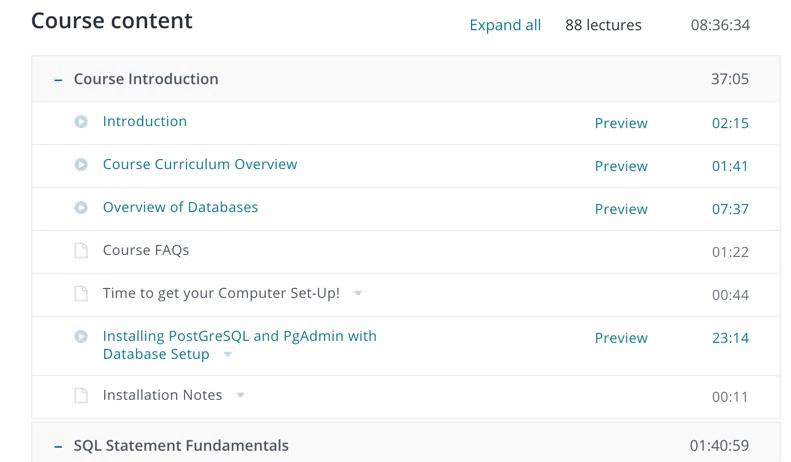 Udemy's video player has all the usual features, such as closed captioning, and there's also an inbuilt facility to make notes as you pass through a course.
As a general rule, you can't download courses for offline viewing for piracy reasons (some course creators allow this by exception) However, an interesting alternative is the Udemy mobile app. This DOES allow you to study offline, you can also use a podcast-style mode to listen to lectures on the move, which is a great feature.
You can also view Udemy courses via Apple TV and Google Chromecast. All in all, this adds up to a decent number of study options, especially considering that some e learning sites don't even have an app.
Example Udemy Courses
While I put together this Udemy review, I found some great examples of courses on subjects I'm asked about all the time:
Blogging for a Living has over 11 hours of training content, and covers everything from setting up a blog from scratch to establishing streams of income with affiliate marketing. It's a "top rated" course on Udemy, with a 4.5 star rating from over 5000 students.
Work from Home as a Virtual Assistant includes 56 lectures, and was created by a successful VA who's been in the game for over a decade. That's a tremendous amount of content for a course that often costs less than $15 when there's a Udemy sale on.
Kickstart a Freelance Editor & Proofreader Career is one of the platform's most highly-rated courses. It's created by a Canadian university lecturer with over 12 years of experience. The course covers everything from "editing philosophies" to how to bid for proofreading work.
Really, you have to look at what you're getting for your money; You may not get a graduation ceremony and a funny hat at the end, but you do get the knowledge.

Furthermore, it's often delivered by the very same people who'd impart it in a college environment. For less than 20 bucks, that's surely a "no-brainer?"
Keep in mind, also, that if you're learning skills to help towards a freelance career, it's what you know that matters, not where you learned it.
How to Choose the Best Udemy Courses
In addition to following other people's recommendations, you can – of course – also browse Udemy's catalogue of over 100,000 courses.
It can feel quite overwhelming, but at long as you follow some simple guidelines, you shouldn't go far wrong:
Read plenty of reviews: It's hotly debated whether Udemy fake reviews are a problem, so it's definitely worthwhile to read several for courses you're interested in, to ensure you get a good overview.
Research the instructor: As stated above, some Udemy instructors are big names in their fields – but some are little more than hobbyists. Find out about your instructor's credentials before signing up.
Try a sample: Most courses offer some preview content, so you can get a good idea of what's in store, and of the teaching style, before you hand over any cash.
Find Udemy Here
Is Udemy Worth it for Selling Courses?
So what about if you'd rather be the teacher than the student? Well, Udemy is well worth a look for that too.
The general rule is that Udemy splits the money earned on courses 50/50 with the course creators, although there are various factors that determine the exact percentage. Instructors can also use a Udemy coupon system and keep almost all the revenue from their training materials.
There are people making six-figure incomes from selling courses on Udemy. You only need to do some quick sums on some of the courses mentioned above to work out that these courses can prove rather lucrative.
Get yourself 5000 students for a course selling at just $15 and you'll make $37,500 on that course alone at the 50% commission rate. It's reasonably passive income too, once the course is created.
Of course, nobody's saying it's easy to do that. With tens of thousands of courses, yours needs to be one of the very best to rise to the top.
You can be sure there are plenty of people on the platform who've created rubbish courses and are – unsurprisingly – earning rubbish money. However, Udemy is a genuine meritocracy.
If you can create better than what's out there, then you have a very real chance of making a living from selling your own courses.
Udemy Review: Conclusion
Like so many places online, Udemy gives back in proportion to what you put in.
If you choose a crappy course to study and don't look at reviews, you'll probably regret getting involved (even if you have only spent 20 Dollars!)
Even if you do pay out for a highly-rated course, you'll still struggle to get much out of it unless you dedicate time to it and actually act on the things the course tells you to do.
But if you choose a recommended course and take your studying seriously, there's no reason why a Udemy course won't enhance your career. It may even set you off on a completely new and rewarding path.
It's the same with creating courses; If you cynically throw something together in the hope of making a quick buck, every Udemy review for that course will suck and you won't make any money.
But if you set out to make your course the best and the most up-to-date out there, then there's no reason why you can't set your sights on being the next "six-figure" Udemy instructor.
Is Udemy worth it? It absolutely is if you make it worth it.
Alternatives to Udemy
There are lots of alternatives to Udemy out there, several of which provide cheap (or even FREE) training options.
Take a look at:
edX – another big training platform, with courses from the likes of Berkeley and Harvard, and lots of free options. Review here.
LinkedIn Learning – a great option for casual training, especially since the company aquired Lynda, a platform with thousands of courses. It sells both subscriptions and one-off, "a la carte" courses, and there's a generous free trial on offer. Review here.
Other Popular Content